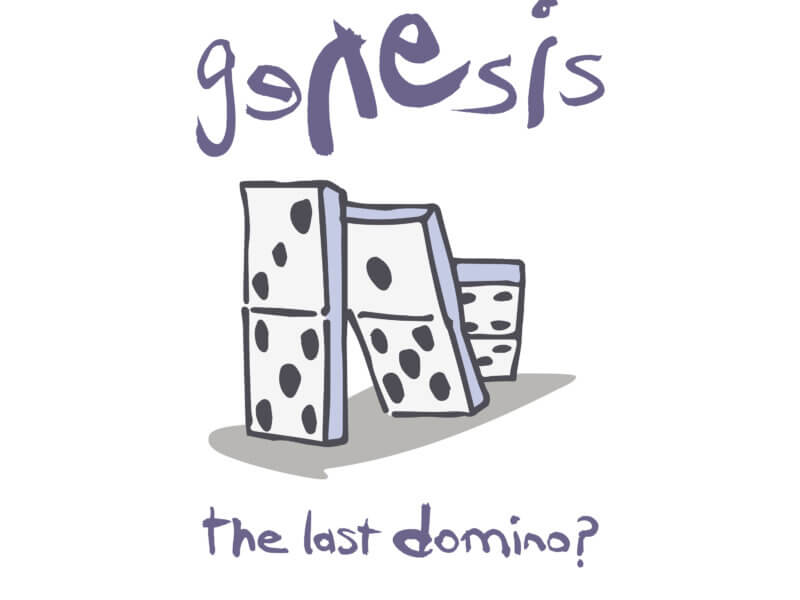 Reviews
Genesis – "The Last Domino?" (Virgin)
Seit letzten Freitag (17.09.2021) ist die brandneue Genesis-Kollektion "The Last Domino?" im Handel erhältlich.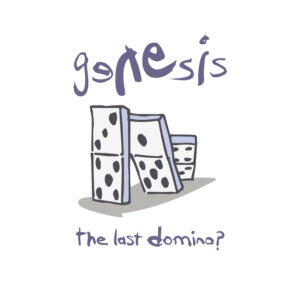 Vereint sind auf der mir vorliegenden Doppel-CD insgesamt 27 Tracks, darunter solche Band-Klassiker wie "Mama", "Follow You Follow Me", "Turn It On Again", "Land Of Confusion", "Throwing It All Away", "Invisible Touch", "Carpet Crawlers", "Abacab", "No Son Of Mine" oder "I Can't Dance".
Solche Pretiosen wie die Progressive Rock-Nummer "Carpet Crawlers" (1975), bei der Peter Gabriel die Lead Vocals übernahm, der in den UK-Top10-platzierte Soft Rock-Titel "Follow You Follow Me" (1978), die rockige Stadion-Hymne "Turn It On Again" (1980), die Pop Rock-Nummer "Abacab" (1981), der UK-Top5-Hit "Mama" (1983), der in den Top 10 der US Billboard Hot 100 notierte Song "That's All" (1983), der US-Nr.1-Hit "Invisible Touch" (1986), der 1986er-Titel "Land Of Confusion", welcher durch das Musikvideo, in dem Karikatur-Puppen der britischen Fernsehshow "Spitting Image" zu sehen waren, weltweite Bekanntheit erlangte, "No Son Of Mine", die Lead Single des 14. Genesis-Albums "We Can't Dance" (1991), die einfühlsame Ballade "Hold On My Heart" (1992) oder die Rock-Nummer "Jesus He Knows Me" (1992), in dem man sich kritisch mit Fernsehpredigern auseinandersetzt, zieren die gelungene Greatest Hits-Scheibe.
Kurzum, eine wunderbare Best Of-Zusammenstellung, die als Retrospektive durch die mittlerweile über vier Dekaden andauernde Karriere der 1967 gegründeten Band Genesis führt, welche bis zum heutigen Tage weltweit mehr als 100 Millionen Alben verkauft hat und und mehr als 20 Top-40-UK-Hits landen konnte.
PS: Erhältlich ist die Kollektion der Formation, welche im Jahre 2010 in die "Rock And Roll Hall Of Fame" aufgenommen wurde, übrigens nicht nur als Doppel-CD, sondern auch als 4LP-Version in einem Hardcover-Gatefold-Set, die mit exklusiven und bislang nicht veröffentlichten Bildern der Band aus dem Archiv und von den Rehearsals zur "The Last Domino?"-Tour aufwartet.
Momentan sind Genesis, bestehend aus dem Keyboarder Tony Banks, dem Drummer und Sänger Phil Collins und dem Bassisten und Gitarristen Mike Rutherford, übrigens unterwegs auf Tour, wobei das Trio von Daryl Stuermer (Gitarre, Bass) und Nic (Schlagzeug), dem Sohn von Phil Collins, noch unterstützt wird.
Hier das Video zu "Invisible Touch":
Und hier der Videoclip zu "Carpet Crawlers":
Das Video zu "Follow You Follow Me" gibt es hier:
Den Videoclip zu "Jesus he Knows Me" findet ihr hier:
Das Album auf Spotify anhören:
"The Last Domino?" Titelliste:
Double CD-Set
CD1
1.Dukes End
2.Turn It On Again
3.Mama
4.Land Of Confusion
5.Home By The Sea
6.Second Home By The Sea
7.Fading Lights
8.The Cinema Show
9.Afterglow
10.Hold On My Heart
11.Jesus He Knows Me
12.That's All
13.The Lamb Lies Down On Broadway
14.In Too Deep
15.Follow You Follow Me
CD2
1.Duchess
2.No Son Of Mine
3.Firth Of Fifth
4.I Know What I Like
5.Domino Medley
6.Throwing It All Away
7.Tonight, Tonight, Tonight
8.Invisible Touch
9.I Can't Dance
10.Dancing With The Moonlight Knight
11.Carpet Crawlers
12.Abacab
Vier LP Set
LP1
1.Dukes End
2.Turn It On Again
3.Mama
4.Land Of Confusion
5.Home By The Sea
6.Second Home By The Sea
7.Fading Lights
LP2
1.The Cinema Show
2.Afterglow
3.Hold On My Heart
4.Jesus He Knows Me
5.That's All
6.The Lamb Lies Down On Broadway
7.In Too Deep
8.Follow You Follow Me
LP3
1.Duchess
2.No Son Of Mine
3.Firth Of Fifth
4.I Know What I Like
5.Domino Medley
6.Throwing It All Away
LP4
1.Tonight, Tonight, Tonight
2.Invisible Touch
3.I Can't Dance
4.Dancing With The Moonlight Knight
5.Carpet Crawlers
6.Abacab
"The Last Domino?"-Tourdaten:
Mittwoch, 15. September Dublin 3 Arena
Donnerstag, 16. September Dublin 3 Arena
Samstag, 18. September Belfast SSE Arena
Montag, 20. September Birmingham Utilita Arena
Dienstag, 21. September Birmingham Utilita Arena
Mittwoch, 22. September Birmingham Utilita Arena
Freitag, 24. September Manchester AO Arena
Samstag, 25. September Manchester AO Arena
Montag, 27. September Leeds First Direct Arena
Dienstag, 28. September Leeds First Direct Arena
Donnerstag, 30. September Newcastle Utilita Arena
Freitag, 1. Oktober Newcastle Utilita Arena
Sonntag, 3. Oktober Liverpool M & S Bank Arena
Montag, 4. Oktober Liverpool M & S Bank Arena
Donnerstag, 7. Oktober Glasgow The SSE Hydro
Freitag, 8. Oktober Glasgow The SSE Hydro
Montag, 11. Oktober London O2
Dienstag, 12. Oktober London O2
Mittwoch, 13. Oktober London O2
Buy-Link: https://Genesis.lnk.to/TheLastDomino
Website: https://www.genesis-music.com/
Facebook: https://www.facebook.com/genesis
Instagram: https://www.instagram.com/genesis_band/?hl=de
Genesis – "The Last Domino?" (Virgin)