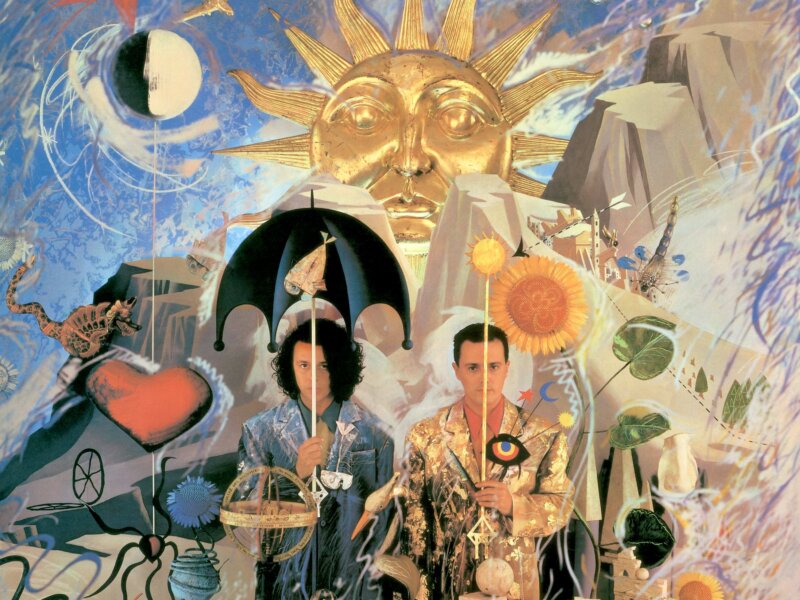 Reviews
Tears For Fears – "The Seeds Of Love" (Deluxe Edition)
"The Seeds Of Love" ist der Titel des dritten Studioalbums der britischen Band Tears For Fears, das knapp 31 Jahre nach dem Erst-Release (VÖ: 25.09.1989) nun in einer Expanded Edition erscheint.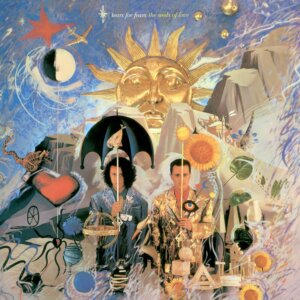 Als Produzenten für das Drittwerk, dessen Aufnahmen in den Real World Studios (Wiltshire) stattfanden, zeichneten Roland Orzabal, der Sänger, Gitarrist und Komponist der aus Bath (Somerset/Großbritannien) stammenden Formation, und David Bascombe verantwortlich, den man auch von seiner Zusammenarbeit mit Bands und Künstlern wie Depeche Mode, Human League, Suede, Echo and the Bunnymen oder Peter Gabriel her kennt.
Neben David Bascombe übernahm damals Bob Clearmountain (Bruce Springsteen, The Rolling Stones, Robbie Williams) den Mix der Tracks.
Als erster Vorbote für das Album erschien am 22. August 1989 die Single "Sowing the Seeds of Love", eine ohrwurmlastige Pop Rock-Nummer, die auf Platz 2 der US-Billboard-Single-Charts landete.
Bei dem als zweiter Single ausgekoppelten Albumtrack "Woman in Chains" (VÖ: 06.11.1989), welcher unter anderem in Deutschland, den USA und Großbritannien eine Top40-Platzierung in den jeweiligen Single-Charts schaffte, ist übrigens kein Geringerer als Phil Collins neben Manu Katché am Schlagzeug zu hören. Als Gast-Sängerin auf dem famosen Stück fungiert die wunderbare Soul-und Jazz-Sängerin Oleta Adams.
Am 19. Februar 1990 wurde mit der Soft Rock-Nummer "Advice for the Young at Heart", bei der das Band-Mitglied Curt Smith die Lead Vocals übernahm, die dritte Single des Albums ausgekoppelt. Sie avancierte in Großbritannien zu einem Top40-Hit.
Mit dem artifiziell gefärbten Popstück "Famous Last Words" erschien schließlich im August des Jahres 1990 die vierte und letzte Single-Auskopplung zu "The Seeds Of Love", die jedoch nicht mehr als einen Achtungserfolg errang.
Auf der am heutigen Tag veröffentlichten Expanded-Version finden sich neben den acht Original-Tracks des 1989er-Albums auf einer zweiten CD solche Schmankerl wie die 7″-Versionen von "Sowing The Seeds Of Love", "Woman In Chains" und "Advice For The Young At Heart", B-Seiten wie "Tears Roll Down", "Always In The Past", "Music For Tables" oder "My Life In The Suicide Ranks" sowie die Instrumental-Versionen von "Woman In Chains" und "Johnny Panic And The Bible Of Dreams".
Wer zum Super Deluxe Boxset greift, das insgesamt vier CDs und eine Blu-ray Disc umfasst, darf sich darüber hinaus über einige Demoversionen, Live-Takes, rare Mixes und exklusive Session-Aufnahmen freuen.
Mit den verschiedenen Deluxe-Versionen huldigt das Label Universal Music eindrucksvoll dem detailverliebt arrangierten Tears For Fears-Album "The Seeds Of Love", das in Großbritannien und den USA für 300.000 bzw. 1.000.000 verkaufte Einheiten jeweils mit Platin ausgezeichnet wurde und in den britischen Longplay-Charts auf Platz 1 landen konnte.
Super Deluxe Edition – Tracklist
CD 1 – ORIGINALALBUM
REMASTERED BY ANDREW WALTER AT ABBEY ROAD
01. Woman In Chains: 6:31
02. Badman's Song: 8:32
03. Sowing The Seeds Of Love: 6:19
04. Advice For The Young At Heart: 4:50
05. Standing On The Corner Of The Third World: 5:33
06. Swords And Knives: 6:12
07. Year Of The Knife: 7:08
08. Famous Last Words: 4:26
CD 2 – THE SUN
45's AND B-SIDES
01. Sowing The Seeds Of Love – 7″ Version: 5:43
02. Tears Roll Down: 3:16
03. Woman In Chains – 7" Version: 5:28
04. Always In The Past: 4:38
05. My Life In The Suicide Ranks: 4:32
06. Woman In Chains – Instrumental: 6:30
07. Advice For The Young At Heart – 7" Version: 4:49
08. Johnny Panic And The Bible Of Dreams Instrumental: 4:18
09. Music For Tables: 3:32
10. Johnny Panic And The Bible Of Dreams Mix One: 6:22
11. Johnny Panic And The Bible Of Dreams Mix Two: 5:55
12. Sowing The Seeds Of Love – US Radio Edit: 4:04
13. Woman In Chains – US Radio Edit 1: 4:42
14. Advice For The Young At Heart – Italian Radio Edit: 3:40
15. Year Of The Knife – Canadian Single Version: 5:40
16. Johnny Panic And The Bible Of Dreams: 4:17
CD 3 – THE MOON
RADIO EDITS AND EARLY MIXES
01. Year Of The Knife – Overture: 1:47
02. Year Of The Knife – Early Mix – Instrumental: 8:50
03. Sowing The Seeds Of Love – Alternate Mix: 7:22
04. Tears Roll Down – Alternate Mix: 4:07
05. Year Of The Knife – Steve Chase 7″ Remix: 4.29
06. Badman's Song – Early Mix: 7:56
07. Advice For The Young At Heart – Instrumental: 4:56
08. Year Of The Knife – The Mix: 06:55
09. Johnny Panic And The Bible Of Dreams – Mix One Edit: 3:43
10. Sowing The Seeds Of Love – Early Mix – Instrumental: 6:40
11. Woman In Chains – US Radio Edit 2: 4:19
12. Year Of The Knife – Canadian Single Version – Instrumental: 5:40
13. Famous Last Words – French Radio Edit: 3:07
14. Woman In Chains – Reprise: 6:39
CD 4 – THE WIND
DEMOS, DIVERSIONS AND JAMS
01. Rhythm Of Life – Demo: 5:12
02. Advice For The Young At Heart – Demo: 4:52
03. Swords And Knives – Demo: 3:51
04. Famous Last Words – Demo: 4:12
05. Sowing The Seeds Of Love – Demo – Instrumental: 6:06
06. Badman's Song – Langer / Winstanley Version – Instrumental: 7:30
07. Woman In Chains – Townhouse Jam: 7:06
08. Broken – Townhouse Jam: 1:37 Tears For Fears
09. Rhythm Of Life – Townhouse Jam: 3:09
10. Badman's Song – Townhouse Jam: 8:17
11. Badman's Song – Reprise – Townhouse Jam: 2:50
12. Standing On The Corner Of The Third World – Townhouse Jam: 9:09
BLU-RAY – THE RAIN
ORIGINAL ALBUM MIX, NEW REMASTER & STEVEN WILSON 5.1 MIX
01. Woman In Chains: 6:31 (Original album master)
02. Badman's Song: 8:32 (Original album master)
03. Sowing The Seeds Of Love: 6:19 (Original album master)
04. Advice For The Young At Heart: 4:50 (Original album master)
05. Standing On The Corner Of The Third World: 5:33 (Original album master)
06. Swords And Knives: 6:12 (Original album master)
07. Year Of The Knife: 7:08 (Original album master)
08. Famous Last Words: 4:26 (Original album master)
09. Woman In Chains: 6:30 (New remaster)
10. Badman's Song: 8:32 (New remaster)
11. Sowing The Seeds Of Love: 6:19 (New remaster)
12. Advice For The Young At Heart: 4:55 (New remaster)
13. Standing On The Corner Of The Third World: 5:33 (New remaster)
14. Swords And Knives: 6:20 (New remaster)
15. Year Of The Knife: 6:55 (New remaster)
16. Famous Last Words: 4:11 (New remaster)
STEVEN WILSON 5.1 MIX
01. Woman In Chains: 6:30
02. Badman's Song: 8:32
03. Sowing The Seeds Of Love: 6:19
04. Advice For The Young At Heart: 4:55
05. Standing On The Corner Of The Third World: 5:33
06. Swords And Knives: 6:20
07. Year Of The Knife: 6:55
08. Famous Last Words: 4:11
DELUXE 2CD Tracklist
CD 1 – ORIGINAL ALBUM
REMASTERED BY ANDREW WALTER AT ABBEY ROAD
01. Woman In Chains: 6:31
02. Badman's Song: 8:32
03. Sowing The Seeds Of Love: 6:19
04. Advice For The Young At Heart: 4:50
05. Standing On The Corner Of The Third World: 5:33
06. Swords And Knives: 6:12
07. Year Of The Knife: 7:08
08. Famous Last Words: 4:26
CD 2 – THE SUN
45's AND B-SIDES
01. Sowing The Seeds Of Love – 7″ Version: 5:43
02. Tears Roll Down: 3:16
03. Woman In Chains – 7" Version: 5:28
04. Always In The Past: 4:38
05. My Life In The Suicide Ranks: 4:32
06. Woman In Chains – Instrumental: 6:30
07. Advice For The Young At Heart – 7" Version: 4:49
08. Johnny Panic And The Bible Of Dreams Instrumental: 4:18
09. Music For Tables: 3:32
10. Johnny Panic And The Bible Of Dreams Mix One: 6:22
11. Johnny Panic And The Bible Of Dreams Mix Two: 5:55
12. Sowing The Seeds Of Love – US Radio Edit: 4:04
13. Woman In Chains – US Radio Edit 1: 4:42
14. Advice For The Young At Heart – Italian Radio Edit: 3:40
15. Year Of The Knife – Canadian Single Version: 5:40
16. Johnny Panic And The Bible Of Dreams: 4:17
Website: https://tearsforfears.com/
Facebook: https://www.facebook.com/TearsForFears/
Instagram: https://instagram.com/tearsforfearsmusic
Tears For Fears – "The Seeds Of Love" (Deluxe Edition – Universal Music)