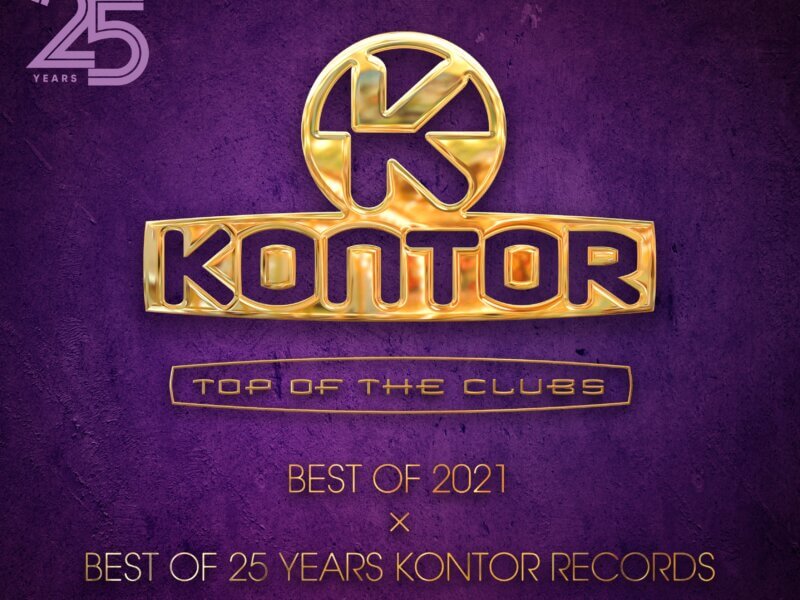 News
Various Artists – "Kontor Top Of The Clubs – Best Of 2021 x Best Of 25 Years Kontor Records" (Kontor Records)
Via Kontor Records erschien ist am 26.11.2021 die Compilation "Kontor Top Of The Clubs – Best Of 2021 x Best Of 25 Years Kontor Records", welche sowohl  eine annuale Jahresrückschau ist (u.a. mit  ATB, Leony, Robin Schulz, Majestic x Boney M., VIZE, Tiësto, Martin Garrix) als auch zahlreiche Pretiosen des letzten  Vierteljahrhunderts  offeriert.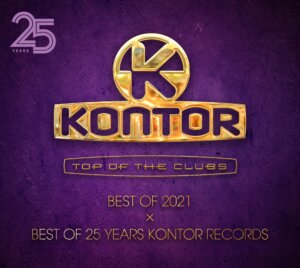 Deutschlands #1 Dance-Marke präsentiert mit dieser Compilation nicht nur den ultimativen musikalischen Jahresrückblick, sondern zum Label Jubiläum, als besonderes Goodie für alle Fans, auch die fettesten Hits aus 25 Jahren Kontor Records!
Auf CD1-3 versammeln sich die besten Club-, Dance-, House- & EDM-Tracks aus 2021 in einem "Top Of The Clubs", "House Of House" & "Festival Sounds" Mix. Eine Extra-CD beinhaltet außerdem 25 der fettesten Hits aus der 25jährigen Labelgeschichte von Kontor Records in the Mix. Darunter zahlreiche mit Gold, Platin und sogar Diamant Auszeichnung versehen!
(Presse-Info)
Hier der offizielle Minimix:
Buylink: https://ktr.lnk.to/TOTC-BestOf
Tracklist:
CD1: Top Of The Clubs
01. ATB, Topic & A7S – Your Love (9PM)
02. Riton x Nightcrawlers feat. Mufasa & Hypeman – Friday (Dopamine Re-Edit)
03. Leony – Faded Love
04. Ofenbach feat. Lagique – Wasted Love
05. Robin Schulz feat. KIDDO – All We Got (Ofenbach Remix)
06. twocolors – Bloodstream
07. Tom Gregory – River (Alle Farben Remix)
08. Calvin Harris feat. Tom Grennan – By Your Side
09. Lost Frequencies & Calum Scott – Where Are You Now
10. VIZE x Tokio Hotel – White Lies
11. Justin Wellington feat. Small Jam – Iko Iko (My Bestie) (Imanbek Remix)
12. Masked Wolf – Astronaut In The Ocean (Alok Remix)
13. Alesso & Armin van Buuren – Leave A Little Love
14. DMNDS & Fallen Roses feat. Lujavo & Nito-Onnam – Calabria
15. SUPER Hi & Neeka – Following The Sun (Diego Druck Remix)
16. Toby Romeo, Felix Jaehn & FAULHABER – Where The Lights Are Low
17. HVME – Goosebumps
18. Axel Black & White – Somebody To Love
19. DJ Antoine – Bam Bam Bam (Put Your Hands Up [Everybody]) (DJ Antoine vs Mad Mark
2k21 Mix)
20. El Profesor – Bongo Cha Cha Cha (Summer Anthem)
21. YouNotUs x Mi Casa – Chucks
22. Twisted Harmonies – Adore U
23. le Shuuk & Papi Pepe – Macarena
CD2: House Of House
01. Tinlicker & Helsloot – Because You Move Me
02. Purple Disco Machine feat. Moss Kena & The Knocks – Fireworks
03. Joel Corry x RAYE x David Guetta – BED
04. Kungs – Never Going Home
05. Loud Luxury and Thutmose – Red Handed
06. Fred again.. x The Blessed Madonna – Marea (We've Lost Dancing)
07. FISHER – Just Feels Tight
08. Shane Codd – Get Out My Head
09. Glockenbach feat. ClockClock – Redlight
10. Navos – Believe Me
11. EDX feat. Jess Ball – Take Me Home
12. Nora En Pure – Aquatic
13. Markus Gardeweg x Hagen Feetly – Getting Used To It
14. The Disco Boys feat. Manfred Mann's Earth Band – For You (El Profesor Remix)
15. Junior Jack – Stupidisco (David Penn Remix)
16. DJ Licious feat. Armen Paul – Hope
17. Dragonette, Sunnery James & Ryan Marciano & Cat Dealers feat. Bruno Martini – Summer Thing
18. Sian Evans – Hide U (Tinlicker Remix)
19. Sons Of Maria – Never Let Me Go
20. Tensnake feat. Cara Melin – Antibodies
21. Dombresky – Down Low
22. Sans Souci – Nanika
23. Daniel Steidtmann – Pigeon Lake
CD3: Festival Sounds
01. Pascal Letoublon feat. Leony – Friendships (Lost My Love)
02. Tiësto – The Business
03. Beachbag – We Are Young
04. Majestic x Boney M. – Rasputin
05. Alan Walker & Alok feat. Imanbek – Sweet Dreams
06. Galantis, David Guetta & Little Mix – Heartbreak Anthem
07. Martin Garrix feat. Bono & The Edge – We Are The People
08. Harris & Ford & Outsiders – Irrenhaus
09. Dimitri Vegas & Like Mike & Scooter – We Love Hardcore
10. Neptunica feat. Matthew Clanton – Love Is Gone
11. Jerome feat. Sarah de Warren – Home
12. Timmy Trumpet x Afrojack – Stay Mine
13. HBz – King Kong
14. Alok feat. Alida – Love Again
15. Mike Candys – Vibe
16. Showtek & Sevenn – Pum Pum
17. VIZE x ALOTT – End of Slaphouse
18. R.I.O., The Hitmen & KYANU – Like I Love You (KYANU Remix)
19. Armin van Buuren & Timmy Trumpet – Anita
20. HUTS & LUNAX – Million Years (Jerome Edit)
21. Yton & KYANU – Happy
22. Steve Aoki & Armin van Buuren – Music Means Love Forever
23. Timmy Trumpet & Felix – Don't You Want Me
CD4: 25 Years Kontor Records
01. VIZE & Tom Gregory – Never Let Me Down
02. Lost Frequencies – Are You with Me
03. Loud Luxury feat. brando – Body
04. Martin Solveig & Dragonette – Hello
05. The Disco Boys feat. Manfred Mann's Earth Band – For You
06. El Profesor – Bella Ciao (HUGEL Remix)
07. The Prince Karma – Later Bitches
08. Sono – Keep Control
09. Gestört aber GeiL & Koby Funk feat. Wincent Weiss – Unter meiner Haut
10. Stereoact feat. Kerstin Ott – Die immer lacht
11. The Underdog Project – Summer Jam
12. Starley – Call on Me (Ryan Riback Remix)
13. DJ Antoine vs. Timati feat. Kalenna – Welcome to St. Tropez (DJ Antoine vs. Mad Mark Remix)
14. R.I.O. feat. U-Jean – Turn This Club Around
15. Mike Candys, Evelyn & Patrick Miller – One Night in Ibiza
16. Martin Tungevaag – Wicked Wonderland
17. Jerome – Light
18. Armin van Buuren feat. Trevor Guthrie – This Is What It Feels Like
19. Dimitri Vegas & Like Mike vs. Ummet Ozcan – The Hum
20. Hardwell feat. Mitch Crown – Call Me a Spaceman
21. ATB – 9 PM (Till I Come)
22. D.O.N.S. feat. Technotronic – Pump Up The Jam
23. Starsplash – Wonderful Days
24. Blank & Jones – Cream (Paul van Dyk Mix)
25. Scooter – Nessaja
Various Artists – "Kontor Top Of The Clubs – Best Of 2021 x Best Of 25 Years Kontor Records" (Kontor Records)